Baseball Springs Eternal – A 20 Year Family Pilgrimage to the Cactus League
Day One – The Commute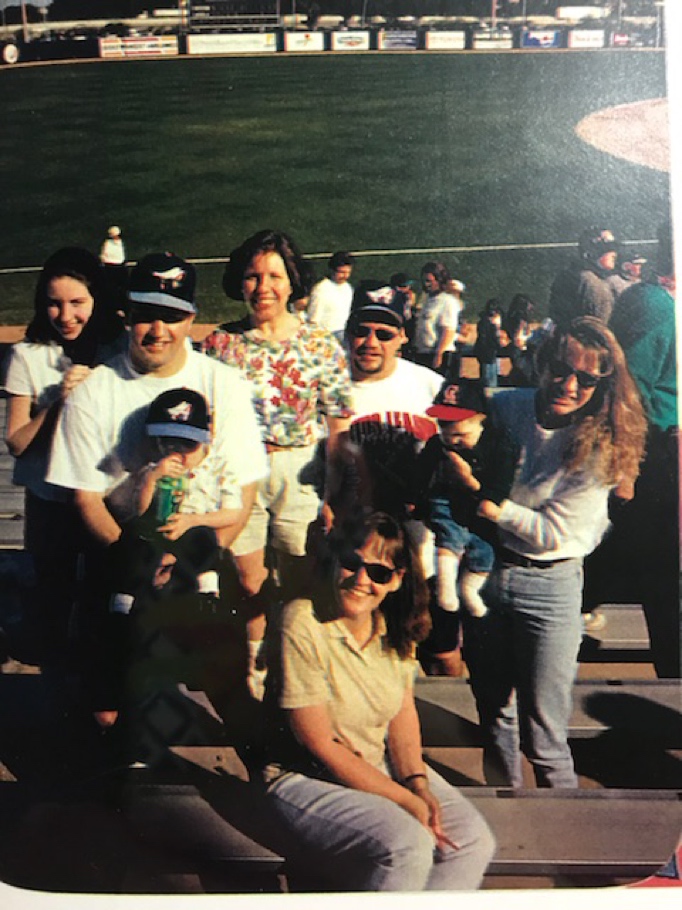 My family and friends make a yearly pilgrimage to the desert in the Phoenix Valley in Arizona to reacquaint ourselves with the Grand 'Ol Pastime, Baseball, each spring. Yet again the Cactus League is in full swing. We have been gathering in the desert for just about 20 years as of this year. It is a rag tag group that comes from all over the Western United States.
I come from the Bay Area, a naturalized Giants Fan with a side hobby as a life long Angels fan. I do believe it is completely legal to root for a team from each the National and the American Leagues. For the past nine years or so, I have lovingly brought my Wife Lynette, a tried and true Oakland A's fan. You know how it goes…….a house divided, is ……. we make it work somehow. We have flown down every year, it simply is too long of a drive.
My brother Doug and his family, and of course Landen, come from Orange County in some precarious car, truck or van. It is quite a haul across the desert each year for them. There is another whole blog post about the stories of their adventures in the various horseless carriages that have guided them on that journey. This year's trip out seems only to have required some additional power steering fluid. On the overall drama scale from past trips, this barely even registers. They seemed to have yet again rolled the dice in favor of Mom's old Green Mini Van and she has responded well.
This year, Scott, Doug's son, flew in from North Dakota where he attends College in Grand Forks. He has hopes of becoming a commercial airline pilot through his studies in Aeronautics. We landed just after noon at PHX and tackled the beast that is securing a car rental. Then, without pause or hesitation, we drove directly from PHX out to the airport in Mesa, referred to as AZA. Our timing could not have been any better as Scott's Allegiant Air Airplane literally landed as we drove within sight of the airport.
For this crew, Scott, my wife Lynette and myself, lunch was a meal that was already long overdue. After a short pitstop at Applebees, we were off to check Lynette and I in at the Janicki Inn in Chandler. Nice house, has a pool! 🙂 and some quality catching up time with one of my childhood friends, Pete, his wife, Jen, and his mother-in-law visiting from Seattle. I have fond memories of growing up with Pete and his brother John in Placentia, CA.
Pete was a Pitcher for much of his life, inspired in Little League by the best coaches ever, John and I. He then pitched my alma mater, El Dorado High School to a CIF Title with a shutout at Dodger Stadium. In College, he pitched for the Bruins at UCLA. All of this led up to his being chosen first by the team he grew up with, the California Angels, in the 1992 MLB amateur draft. He now is a successful salesman, husband and father. Plus his mother-in-law Holly (aka Hoppy!) likes him, there is that! Btw, fun place to stay. It feels like home! His wife Jen, Hoppy, Lynette and I solving the worlds problems around the table in the kitchen! It is like we were still back in their kitchen in Placentia when we were growing up.
Joanne actually lives down in the eastern portion of Mesa these days with her fiancé Jon. Once again, we will miss out on the opportunity to meet Jon as he had some business in Salt Lake City that he needed to attend to I believe. Joanne and my sister-in-law Robin met years ago working for the Boy Scouts of America. Her daughter Kelli flew in I believe from Wyoming and Salt Lake City this evening in time to join us all for dinner!
Bucca di Beppo in Chandler it seems was the smartest place for us to finally all meet up for the first time and grab dinner. If you have never been there before, it is a very comfortable down home Country Italian chain that very easily accommodates larger parties such as our group! You can even reserve a table in the middle of the kitchen if you wish, or of course there is the famous "Pope Room" where there is a head of the Pope in the middle of the table! The food is ordered and served up family style. No small portions, just like Mama used to serve, feeding all those hungry boys! As you could expect, we ordered way too much food, plenty of beverages and stuffed ourselves to the point that the famous after dinner question of "Dessert?" brought on deep, rich belly laughs all around! Even Landen!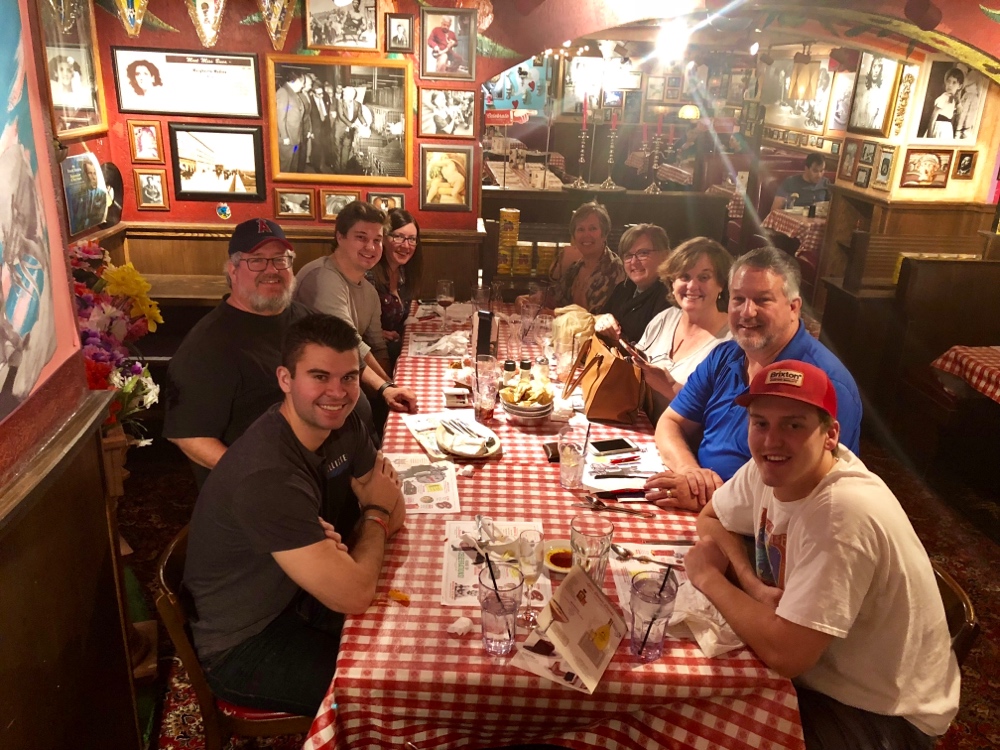 To end the night, Lynette and I headed back to the Chandler, Janicki Inn. We had DVR'd the Warriors game vs the Spurs on the Hotel entertainment system and sat down to watch the game. We have only missed one game in the past three years and a couple of months! Why start now? For what it's worth, the Warriors played poorly, Steph rolled his ankle yet again and will be out for a bit, but in the end, our Warriors squeaked out a last minute win to keep the perfect second half record in tact!
After only getting three plus hours of sleep, you would think it was time for bed. But no, it was time to stay up and write this and capture this day for posterity!
Edited with BlogPad Pro