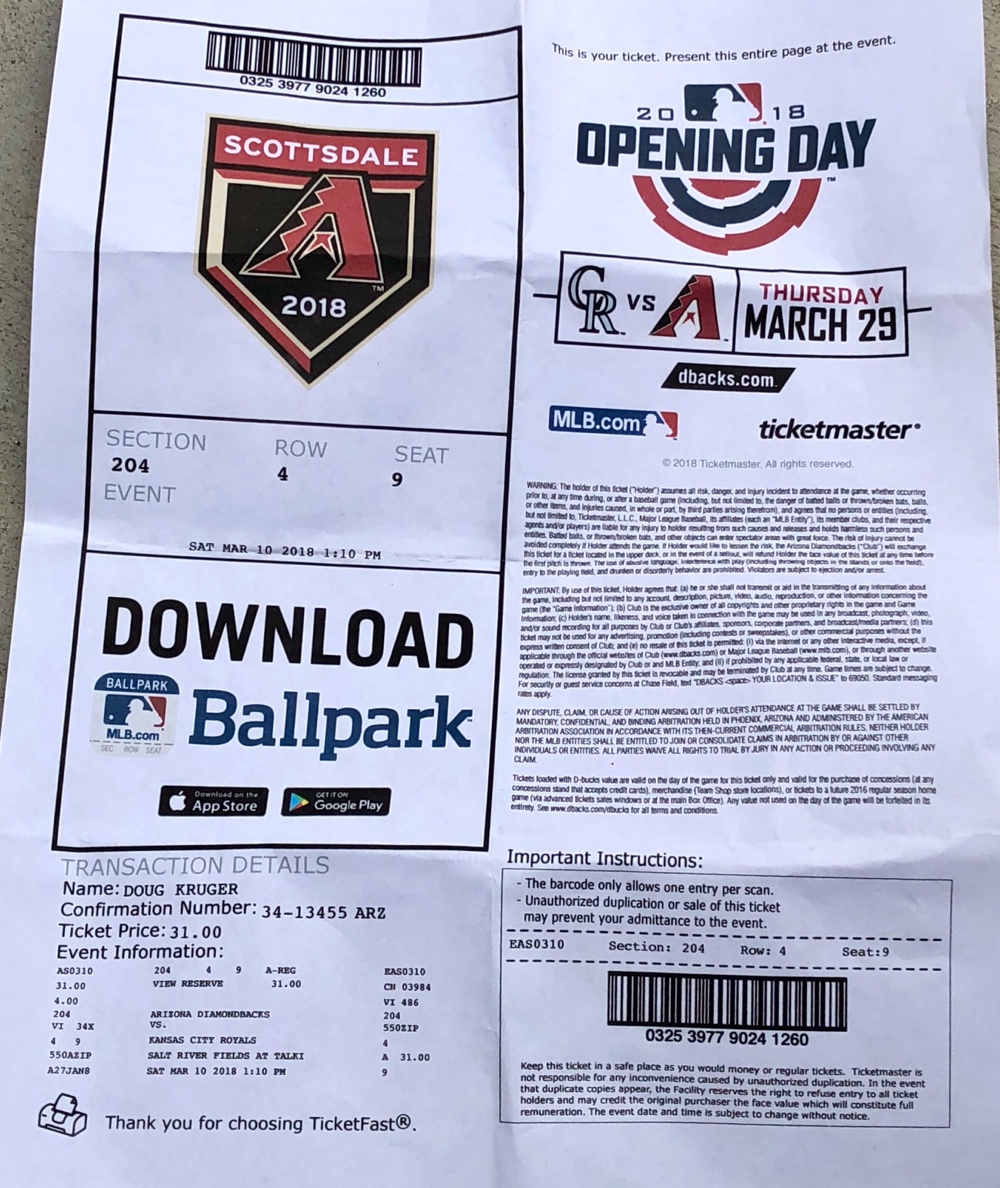 Breakfast with Lynette's Family – Game Night at Joanne's
Day Three – Rain at Salt River Fields at Talking Stick
Diamondbacks vs Royals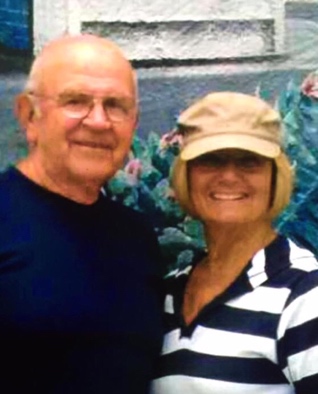 Our annual trip to the Cactus League allows us to catch up with Lynette's Uncle Ron and Aunt Elaine from Queen Creek, just south and east of Gilbert. This year, we chose to meet at a popular breakfast place in downtown Gilbert called "The Farmhouse." Ron was a Physical Therapist for a living before he retired. He married Elaine in the past ten years, I forget which year. Elaine is a very happy upbeat woman that always has a smile on her face! Both of them have travelled the world extensively, however it appears to different locations.
A big part of our conversation at breakfast this year was about their upcoming planned trip to Italy and Greece. A Cruise will be involved, that excited Elaine as she will get to see some different locations in Italy from off the coast. Ron has never been and is pretty excited about the whole thing. Greece seemed to be the crown jewel of the trip as neither of them have been there before. We look forward to their yearly trip to visit Linda, Lynette's Mom among others in August in the Bay Area. We should get the whole colorful, well spun story with pictures then!
After breakfast, we were already halfway to our destination for Baseball that day. Salt River Fields at Talking Stick. This is probably the most interesting site in the Cactus League. Per Wikipedia: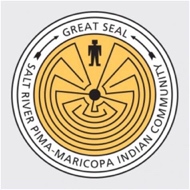 "Talking Stick is owned and operated by The Salt River Pima-Maricopa Indian Community (SRPMIC) It is a sovereign tribe located in the Phoenix metropolitan area. Established by Executive Order on June 14, 1879. With two distinct backgrounds and cultures, the Community is comprised of two Native American tribes: the "Akimel O'Odham" (River People) and the "Xalychidom Piipaash" (People who live toward the water), also known as the Pima and Maricopa. Today, over 10,300 individuals are enrolled tribal members." Salt River Fields at Talking Stick is among the properties and venues that they operate on their western border near Scottsdale, Tempe and Mesa."
Needless to say, we were already halfway to the fields after travelling to breakfast, thus, we arrived at the Talking Stick Entertainment Complex a few hours before the game. I planned on doing some writing and reading if we could find a place to hangout that had a table and a beverage or two. The funny thing about this venue turns out to be how they park cars.
We have been here several times in past years. We usually show up within a half hour of game time. Sooo, thinking we have it made in the shade being a few hours early, we proceeded to the venue parking. Huh? They parked us about as far as we have ever been from either the Right-field or the Center-field Gate?? Made no sense. We had to make sure we had enough supplies and walked back to the Entertainment Complex. That meant a walk through one of the largest Home Depot Stores I have ever seen. We entered through the back, at about the halfway point of the store lengthwise. Halfway on the path to the front door, one could look right and left and just drop your jaw in amazement as you speculated just how different the weather might be in each direction.
Okay, we made it out of Home Depot alive. We said hello to the folks in the guest relations offices of Talking Stick next door. More importantly, we made an important stop to shed some of that extra liquid that we were required to take on to make the journey from our car to this point. The ladies there were very helpful and very nice! Ahh, I love excellent Customer Service when I see it!
Next, we found a Blimpies and grabbed a soda and a table to open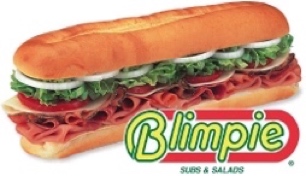 our iPads up and get down to business. Ouch, I had not told Lynette about this particular part of the plan it turns out. She did not have her iPad with her. I had to dodge rocks and arrows for a bit as she was forced to read off of her tiny phone. Note to self, mention this part of the plan early in the morning next time!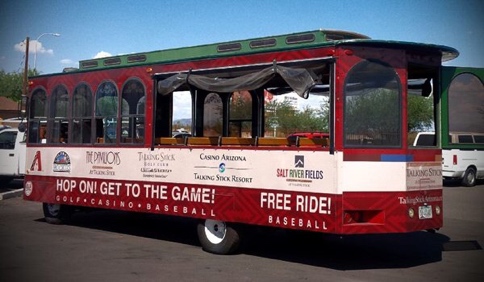 When it was time to head into the stadium, we were looking right at the stop for the "Ollie Trolley" that runs from this location directly to the Center-field gate. Score! Plus the driver and another Talking Stick person were very nice and informational along the ride! As it turns out, our seats were located down the Right-field line. The Center-field Gate was pretty close so it ended up being a decent decision to take the Trolley. Always an adventure, that is what life should be!
No one had either team on their watch list for this game. The Diamondbacks are rivals to the Giants, so I was at least pretty familiar with them. The Royals were the opponent as the visiting team for this game. They are from the midwest and as such, their following consists of many folks from the plains states like Nebraska, Kansas etc. We are from Nebraska, so we are biased when we say these are some of the warmest, friendliest people around.
The couple sitting next to Joanne were from Nebraska. Specifically, the husband was a farmer. Joanne is cut from the same cloth and as such is not shy when it comes to meeting new people usually. She befriended the couple early on in the game. I too chatted with them as they were sitting directly behind me. Something just felt comfortable and homey with all this midwesterness surrounding us!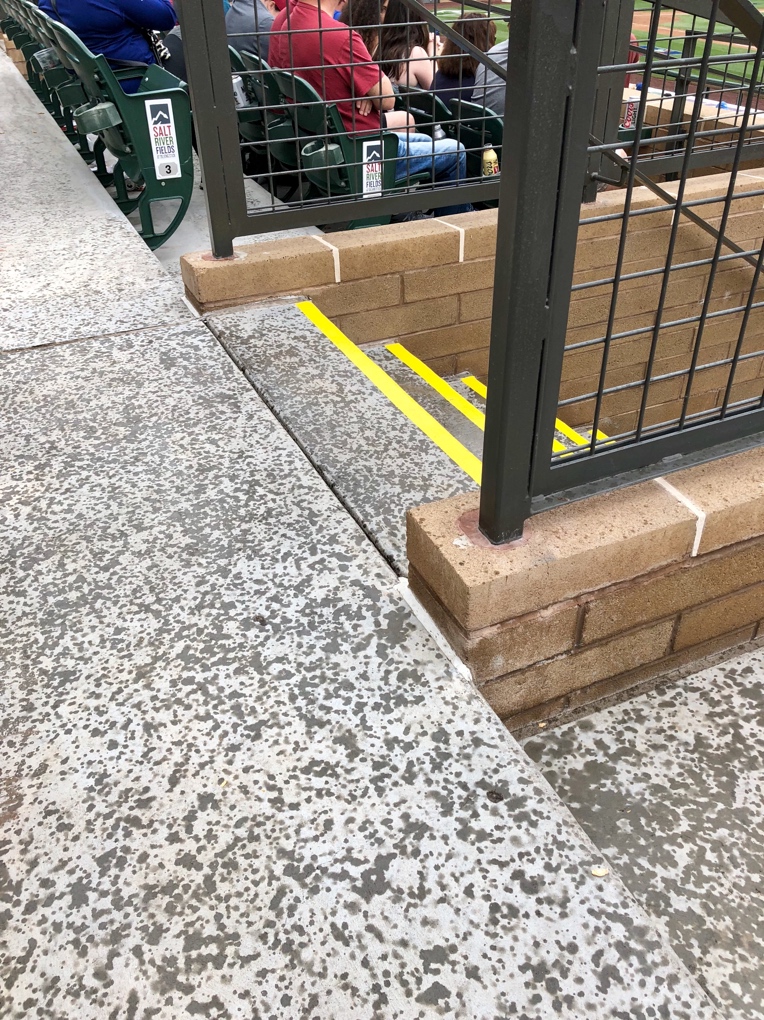 The game was not action packed, but was interesting enough. Then, it started to rain. Yep, Arizona in March gets rain sometimes. It is not always 95 to 100 degrees! It rained enough to make the steps slippery as we watched a younger middle aged man slip and fall as he traversed down to the next level. He had ice on his head up until the end of the game from what we could see. Ouch! It did not rain enough to delay or cancel the game.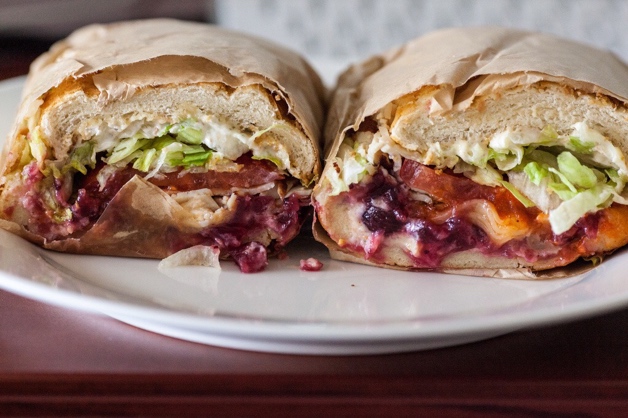 On our "take a lap around the stadium trip", Lynette and I landed at Ike's Place Sandwiches along the third base side to grab lunch. If anybody ever questions how effective that whole stand in the aisle and pass out hot samples thing works, just know that it works well. They were sampling a hot sandwich called "Rounding Third." It had Turkey, Swiss Cheese and Cranberry sauce. Oh my, it was stupendous! Had to get one. It was the best food from any of the ballparks on this trip by far. The only thing that came close in recent memory was that personally cooked Philly Cheesesteak Sandwich that we had last year behind the plate at the Fields at Goodyear! Amazing! I could not smile enough as we sat in our seats and ate our sandwiches!!
After the game, the plan was to head out to East Mesa to Joanne's place and cook up some grub for the whole gang. We picked up some Corn on the Cob and some nice Vino as our contributions.
The Slow Cooker had worked hard all day on Shredded chicken at Robin's urging. Joanne sautéed broccoli, tomatoes and brussel sprouts. I boiled the Corn on the Cob and the salad pratically made itself. Yum, what juicy offerings for dinner. Not long after dinner, there was the amazing dessert that Joanne whipped up for us. She had some amazing Costco Cinnamon cakes with a bit of vanilla ice cream. No one left hungry, that is for sure!
The night was still young it appeared. Lynette and Robin broke out the always available three deck stack of "Spite and Malice" cards and played a hand. It will always make me think of my Mom. That was her game, we all continue to play it often to remember and honor her. Next on the agenda was "One Night Ultimate Werewolf!"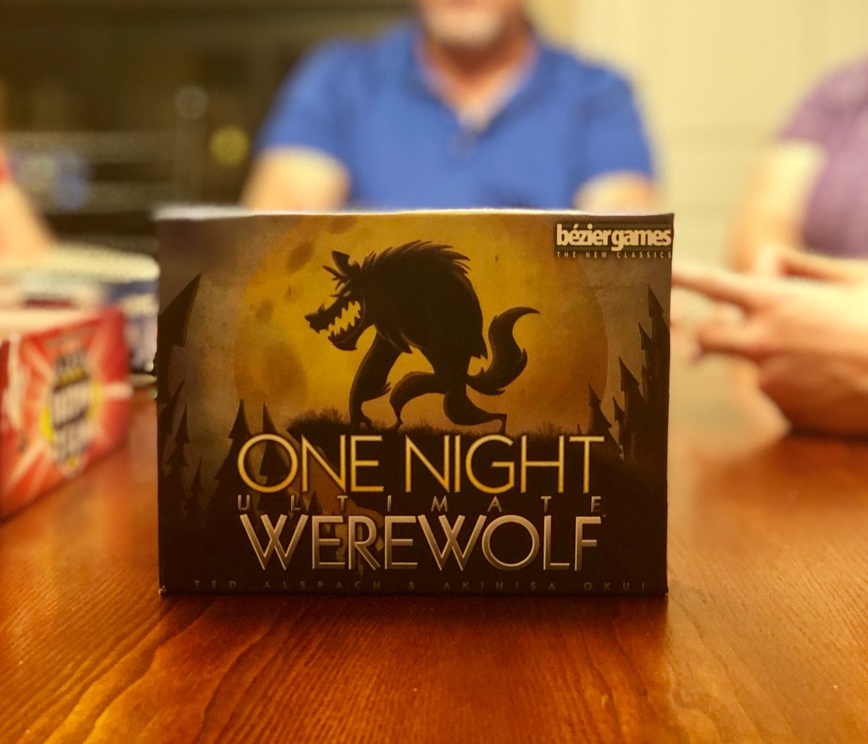 If you have never played this game before,

give it a whirl some night when you have a large group of friends or family over. It is a complex and confusing game with a lot to learn. I had played once before, so I had it wired. I was not completely cooperative in the early stages of the game. That clearly irritated my nephews Scott, Matt and Landen. Of course it all was a setup for the last round where my role was to intentionally protect the Werewolves and deflect the curiosity elsewhere as the Minion. Nailed it! Everyone had a blast.
Next was, "Wits and Wagers." This game requires two person teams to draw upon their knowledge to estimate things like dates, sales amounts for "Elephant Pictures" and much more. The idea is to always come in under the actual amount. Like your basic TV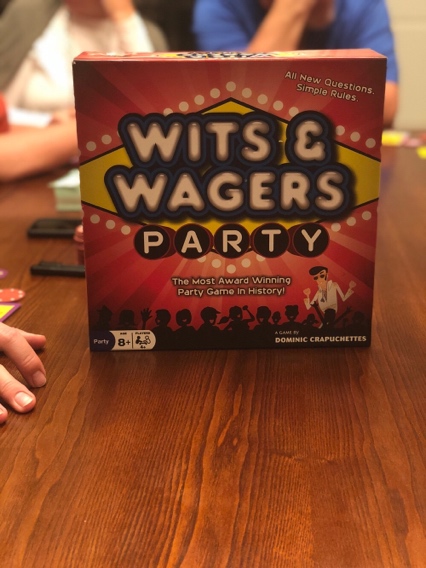 Gameshow. Then you need to use strategy to take risks or not at the correct times to attain victory. I was paired with my nephew Landen.
Have I never mentioned my nephew Landen before? It is a complex story while amazingly simple at the same time. Landen lives down the street from my brother Doug and his family. As Doug's kids grew up (I actually never plan on doing that myself!) Landen always hung out at their place with Matt and Scott. They are all about the same age. He is cut from the same cloth, easy going, mellow, smart, funny, basically, fun to be around. Now I ask you, if that kind of a kid wanted to always hang out at your house, go on trips with your family, and generally just blend in, why would you say no? Thus, Landen may not pass some DNA tests to be a Kruger, but he definitely passes every other test that we could conjure up! It is truly our pleasure to have him along any time that he can make it! He is my nephew after all!
So, between my estimating skills and Landen's general smarts, along with his mind for strategy, we won both rounds of "Wits and Wagers!" Now I am not gloating or anything. Okay, yes, I am, that is what you do after a family game night! It was after 11pm when everyone decided to start the second round of the game. Lynette and I had a 40 minute or so drive to the Janicki Inn to sleep. Did we say, "no, we are too tired!" Not a chance! Would we have had a different view if Landen and I had not won the first round? Hmmm, we will never know! Yes, we as a collective group are definitely a competitive group!
It is actually a pretty cool thing to watch and take a mental step back and see just how each and every person fits into the overall dynamic. For the most part, even the most shy in the group were paired up with partners that allowed them to shine as a team. That is hard to do with ten different personalities from four different families thrown together and told to play nice and have a nice time together!
It was one of the best Game Nights in the 20 years of this Cactus League excursion. Overall, it was one of our better days as a group. I really enjoyed it!
Edited with BlogPad Pro