The Main Event – The Reason for the Season, The Angels in Tempe
Day Four – All things familiar – Mark Brubaker, the Angels, and Tempe Diablo Stadium
Angels vs Rangers
Day Four, everything just seems so familiar when we go to an Angels Game at Tempe Diablo Stadium. Not always pristine or perfect, but familiar. It normally is get-away day for all but Lynette and myself. This year, only Landon was heading home Sunday evening, so another group dinner was on tap.
The day started out with the intent to grab breakfast with Pete, his family and maybe even his father, John and his new wife. However, it turns out that the plans never quite developed as hoped. Instead, it was Pete making coffee for the two of us. One more opportunity to tell stories of the past, present, NBA, NCAA Tourney, MLB, you name it. We never did get a good group shot with his wife, two sons and mother-in-law. The best I can do is one from a breakfast several years back! The boys have grown a lot since that day! Breakfast went from a large event to hot breakfast sandwiches from Starbucks drive-thru. Not the worst option, but different from the original plan.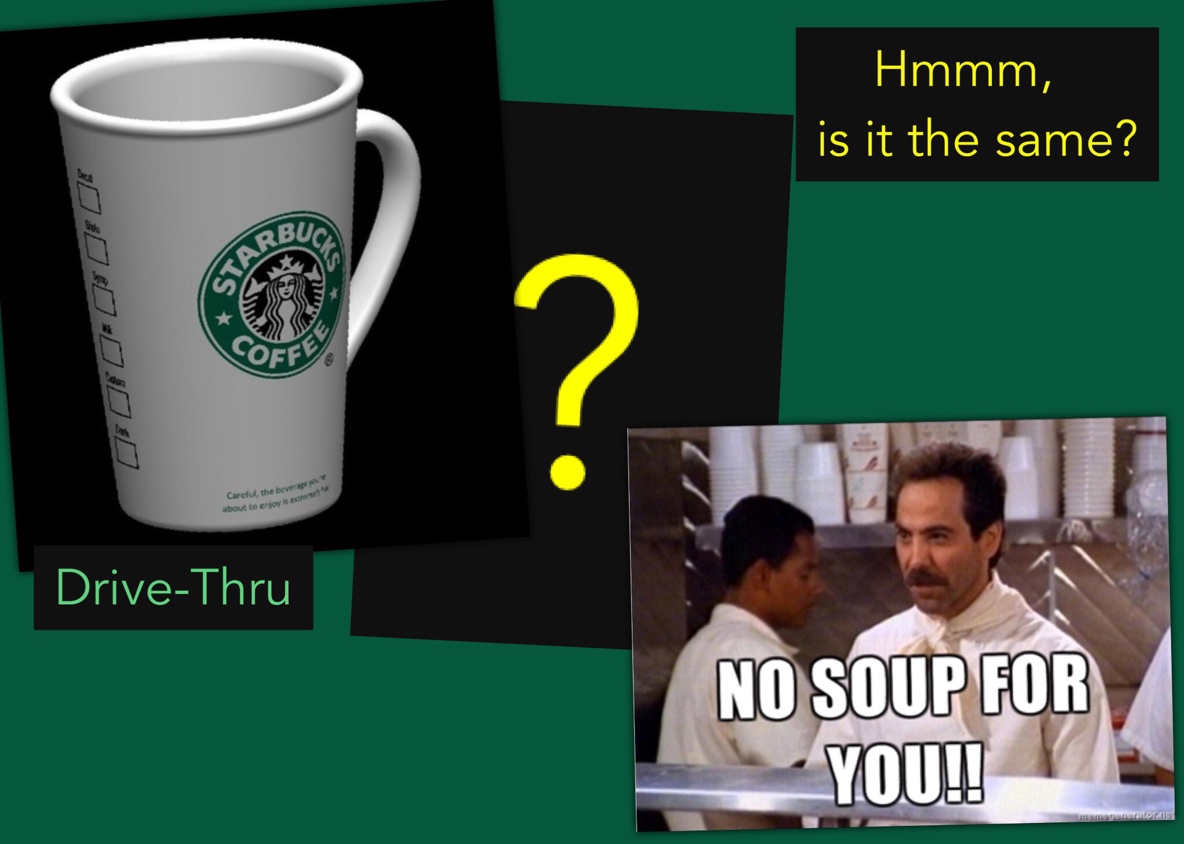 One side note, we witnessed proof that "When Harry Met Sally" lives. The car in front of us in the drive-thru line was quite amusing when it came time to order. Starbucks is a cult, there is no doubt about that. In many ways, it kind of reminds me of "The Soup Nazi" from that classic episode of Seinfeld. You pull to the speaker, order your drinks, no matter how custom, acknowledge the order that was read back to you over the speaker and move on. Or you risk the "No Soup er Coffee for you" scolding rebuke at the window once you pull around. Back to the car in front of us. A normal customized order is something like, "Grande Soy Latte, extra hot with an add-shot and extra foam". There is a well defined dialect just for this process. The car in front of us just had no clue. They must have been Peet's customers? They wanted a Caramel Macchiato, no caramel? or some such, Huh? "Does that come with one shot or two?" And, "What size is a Grande?" Etc, etc, etc. Bottom line, because they did not follow the rules, or the proper process as some call it, they took a very long time and the rest of us in line were ready to kill them! Maybe that is a little harsh. We did get our coffee after all. Okay, my rant is over, we eventually ordered quickly, advanced to the pickup window and headed toward Tempe Diablo Stadium.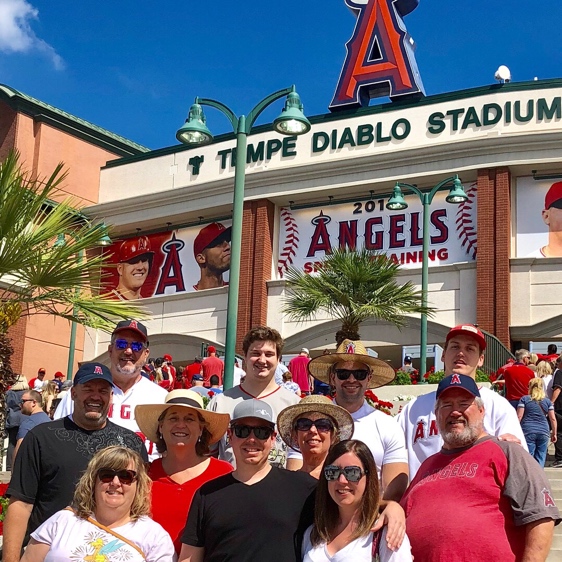 How cool, we arrived early enough to get directed to the nice lot just outside the front of the stadium. Now that's parking Karma! Talking Stick needs to come study the Angel's process of rewarding those that actually plan ahead and show up early! As we sat in our car drinking our Lattes, Mr. Starbucks himself, Mark Brubaker texted back that he had already arrived and was content at the bottom of the steps drinking his Starbuck's hot tea. We quickly packed up and walked the short distance to greet him.
Doug beat us to the steps to greet Mark. The rest of the gang was right behind. Doug then peeled off to try to sell our remaining tickets for today's game while we all caught up in front of the Home Plate Entrance steps to Angel's Stadium. It seems that it was a good day on the resell market as Doug was back with the group fairly quickly. We amassed and found an amateur photographer to grab my iPhone and take the traditional photo on the steps with the entrance in the background.
As we went to sit down in our seats in a very nice location between home plate and the first base dugout, something very familiar once again made it's presence felt. The rows of seats at Tempe Diablo Stadium were laid out either for the ancient Inca civilization or the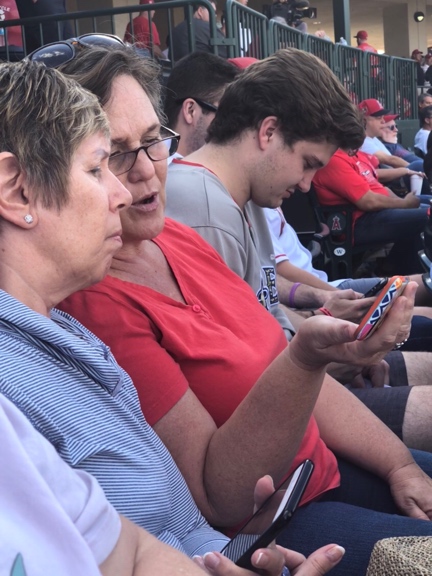 local middle school. The seats are much the same as every other game that we had been to. However, the spacing is much narrower than any of the other stadiums in the Cactus League. I now remember the dent in my knee from the cup holder and seat in front of me that I took on in previous years. Simply put, you need a form of padding in
the form of a folded up t-shirt or some such to put on the front of your knee. Oh well, some things don't change! The fact that you have nice seats and are watching an Angel's game seems to make it all tolerable.
I will say, it was a bit of a two on two based game for our crew in the stands today. Due to where our seats were, everyone seemed to be paired up and engaged in deep conversation. Some were photo bombing at every opportunity, and some like Robin and Joanne were just retelling "Cat Stories."
The Angels look pretty good with the new additions to the roster. And yet again, they are in first place in the regular season standings in the American League West as of this point!
Again, expanding on the everything is familiar theme, I was hoping to see Tim Lincecum in a Rangers uniform.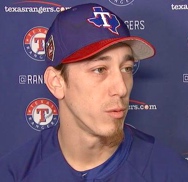 Better yet, I would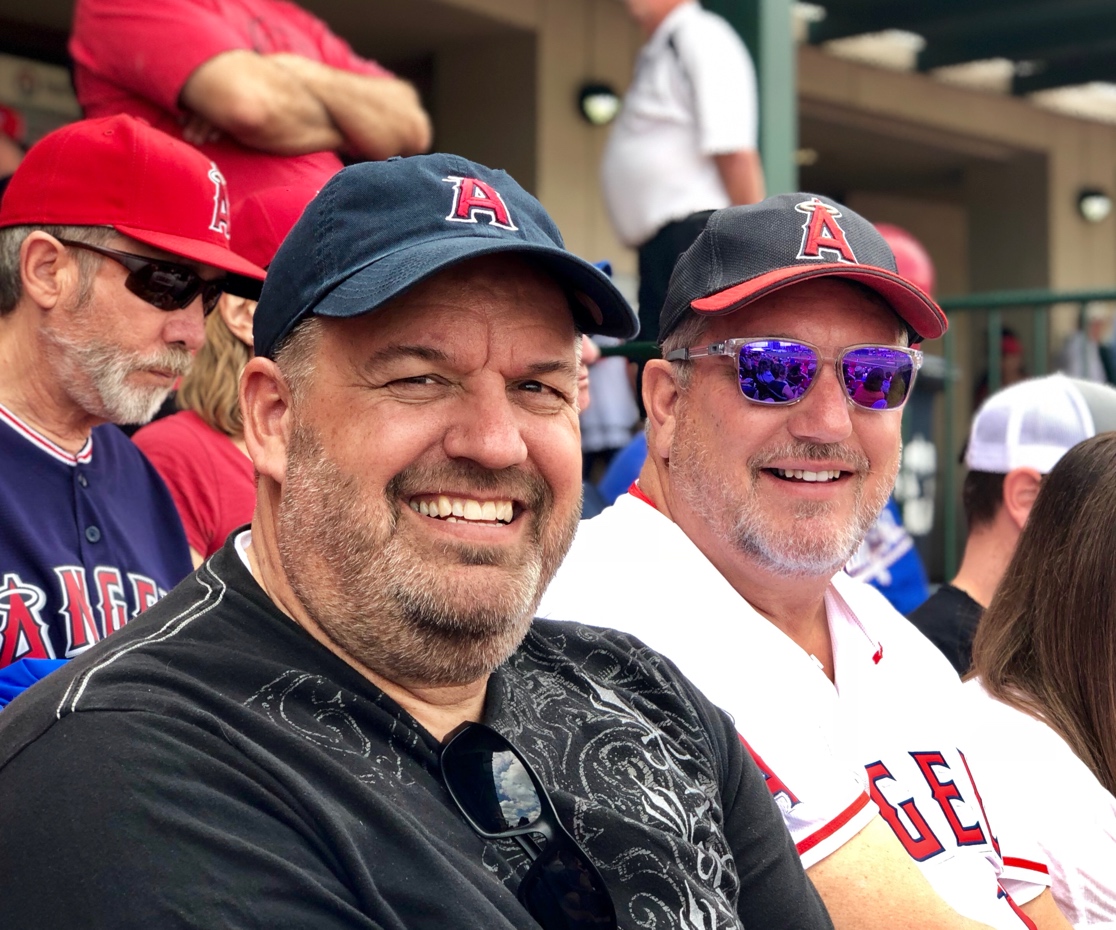 have loved to see him pitch against my Angels. Honoring the belief that it is legal to root for a team in each league, I am also a huge Giants fan from the National League. A few weeks ago, Tim signed a contract with the Rangers after not pitching at all last year. I am excited to see him have continuing success with the Rangers after "bulking up" over the past season and a half or so out of baseball.
As I said, yet again the Angels look really good this year. This may be the last time they give Scioscia a chance to rebuild the roster. There have been many different challenges since the 2002 World Series Championship over my poor Giants. I just get a feel that management is giving this one more legit shot with the Hall of Famer at manager.
One thing about Spring Training for many in our group, we don't remember who wins each game. We pay attention, but due to the nature of these being tryouts and glorified batting cages and bullpen sessions, the final score means little. Spring Training some say is defined by those guys playing in the later part of the game with numbers all above 80 and definitely no name sewn onto the back of their jerseys. They are living out their childhood dreams just being on that field. Their chance of making the big league roster is a long shot at best. Only a jaw dropping, amazing, wow kind of a spring will ever give anyone not on the 40 or 25 man roster any real hope. Once we get to those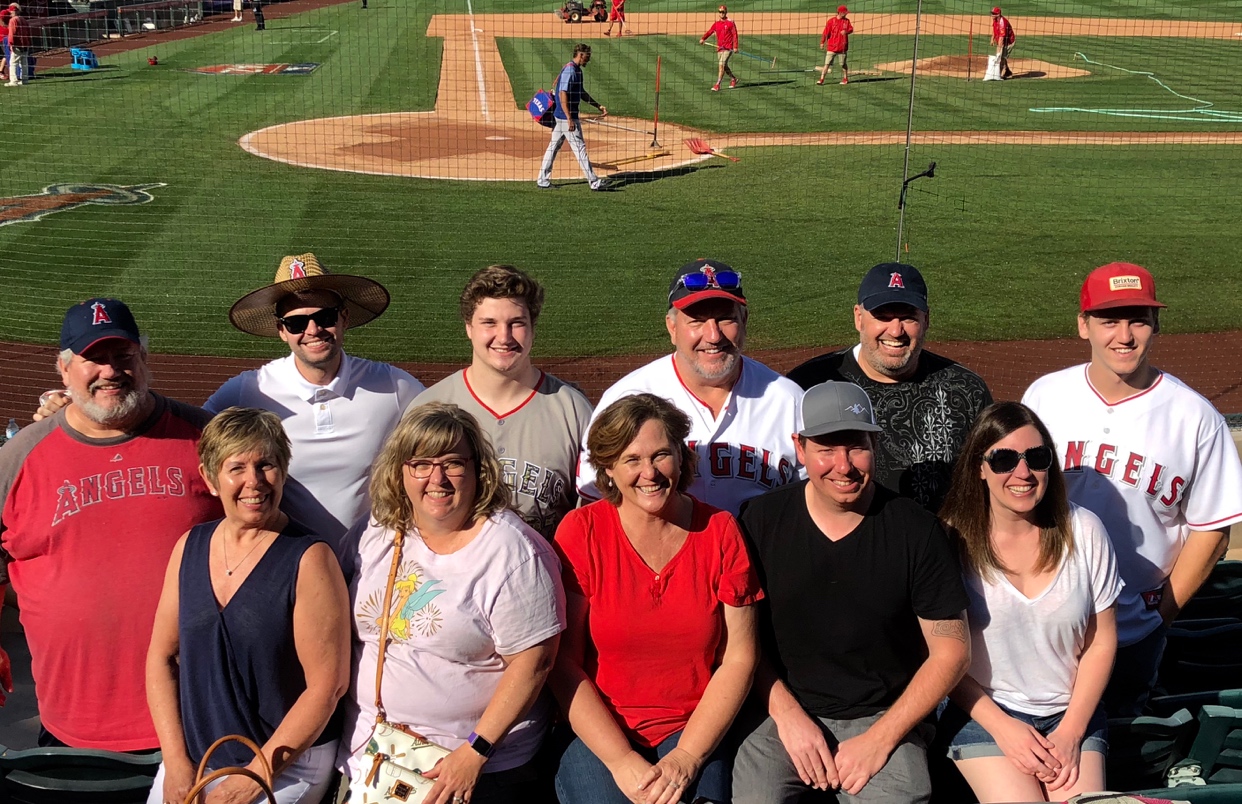 innings, the final score seems to fade with each starter that heads to the outfield to get his sprints in with the conditioning coach. Yes, during the game, it is the Cactus League.
Once the game wraps up, it is time to get that traditional group shot with the field in the background. The good thing is that we take a lot of shots. Believe it or not, getting ten people to smile all at the same time is just not as easy as one would think! And to make it even harder, today we had our good friend Mark Brubaker along to make our group eleven strong!
As we headed out, Doug literally almost ran into our Fantasy Baseball colleagues, Doug's Scoreboard Crew colleagues, and most importantly, the Angels Drinking Team as they call themselves with their crew. Martha and Deanne have been friends with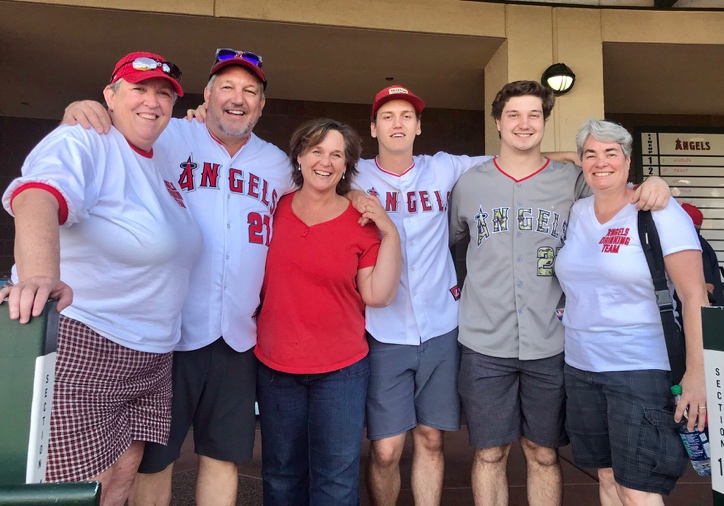 Doug and the rest of us for some time. They always seem to be in AZ for the Cactus League at the same time that we are there. Smiles, hugs, and high fives? were exchanged. Pictures were taken. More hugs and smiles, as they told of their travels this year. Then we followed them out to the parking lot. Due to our excellent parking Karma, we were parked very near them. Of course, they are always parked in the same relative place. They arrived even earlier than we did today!
Since only one of our crew was flying out, we had time to grab dinner. I think Kelli picked "The Thirsty Lion Gastro Pub" at the Tempe Marketplace. Not far, maybe but a ten minute drive for us? It was interesting for Lynette and I. We intentionally ate rather lightly at the stadium knowing that we would be eating shortly after the game. Yet, we still were not very hungry. Thus, for us, a few appetizers were the choice du jour. Most importantly, we ordered an order of California Sushi Rolls.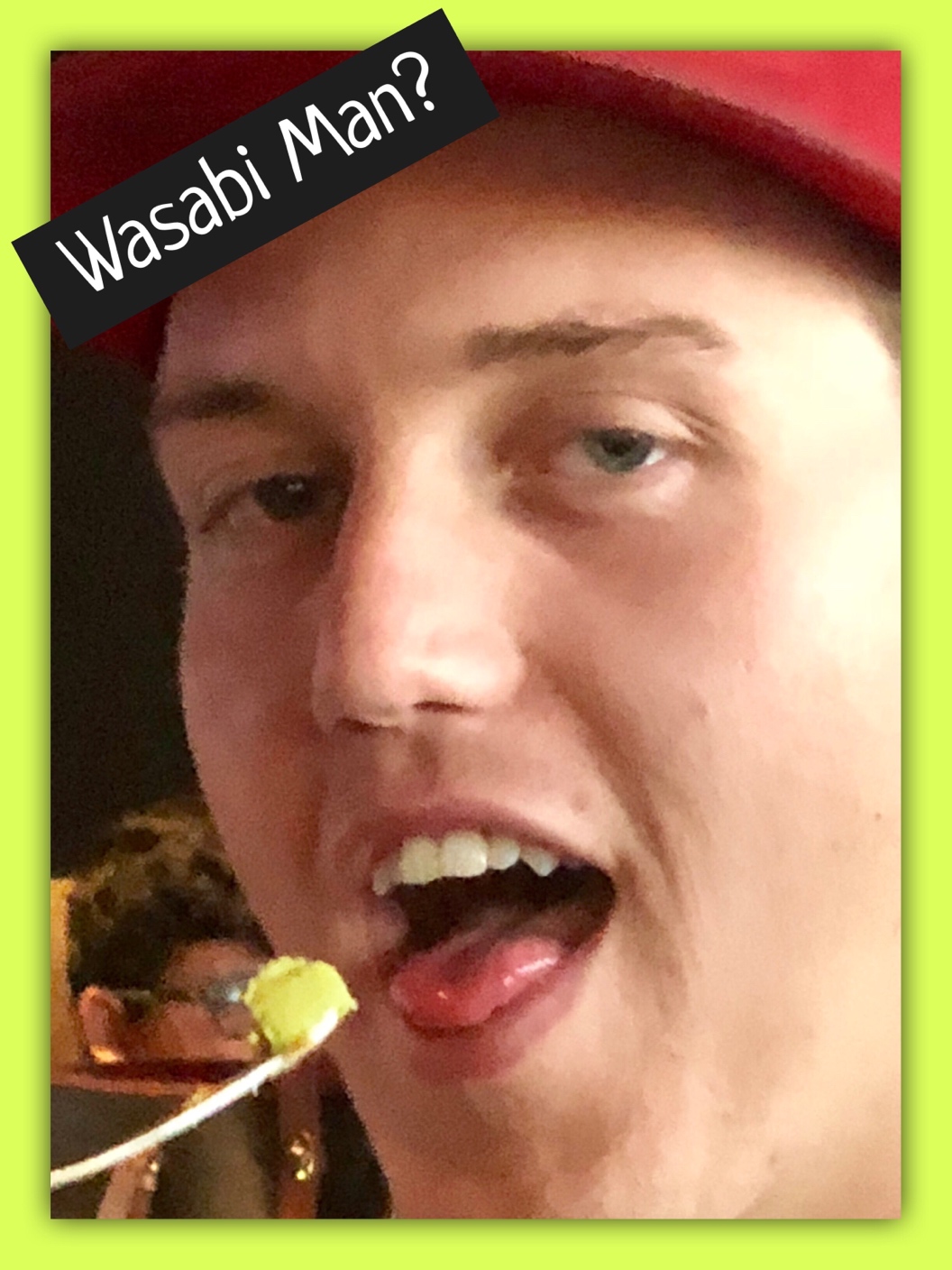 My nephew Matt is obsessed with all things spicy. He and some friends actually obtained something that was the spiciest thing available or some such once. They couldn't even try it much as they were getting violently ill from it. Just can't see the point of that. Speaking of which, my point. Matt had not ever tried Wasabi. So, I gave him a large portion to put on a spoon and give it a try. I already learned this lesson many years ago. Thank you Ru Chao! Anyway, it lit him up as one would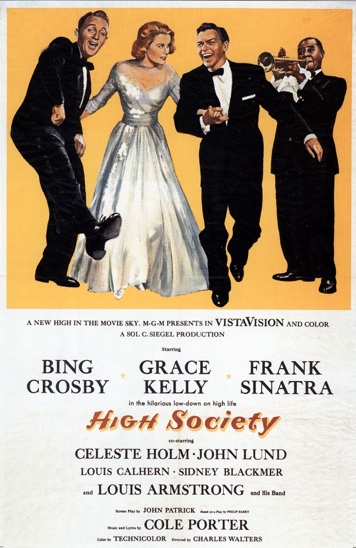 expect. I have now nicknamed him "Wasabi Man?"
We all said our goodbyes in the parking lot and the gang split and went their different ways. Only Lynette and I were still heading to a baseball game tomorrow. Our scheduled game would be the best one yet as we renewed our family civil war. Yep, the A's were hosting the Giants for our last game!
Once we arrived home, we weren't sure that we had come into the right house. Pete and his boys were up and watching some form of Basketball each of the other nights that we arrived "home." To my delight, Pete's wife Jen and her Mother-in-law, Holly along with Pete were watching "High Society" with Bing Crosby, Frank Sinatra, Ginger Rogers and Louis Armstrong! Talk about the ultimate contrast! I sat on the couch mesmerized all the way until the last credits!
Other than watching the hobbled Warriors lose their 2nd straight game for the first time all season, I would say that it was a pretty great day!
Edited with BlogPad Pro