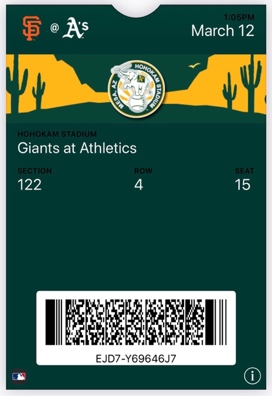 Commute Day, Heading Home – A Last Baseball Game and Dinner at the Downing's
Day Five – A Springtime Civil War, Dinner with George and Becky
The A's vs my Giants
We parted ways with the other eight members of our Baseball Fan Troupe last night after dinner. Today, they are traveling their separate ways. Doug flew from PHX to Wisconsin this morning for work while Robin, Scott and Matt rode the Great Green Wagon back over the desert to the great OC. Chad I think is flying somewhere in a few days for work, then again back to Oregon and the town of Bend. I believe Kelli headed back today, flying to the Great Salt Lake and finally arriving back in God's Country near the Tetons in Wyoming. Joanne is staying put I believe in her place in Mesa for at least this week. We won't commute back to the City by The Bay until later this evening after a pretty full day.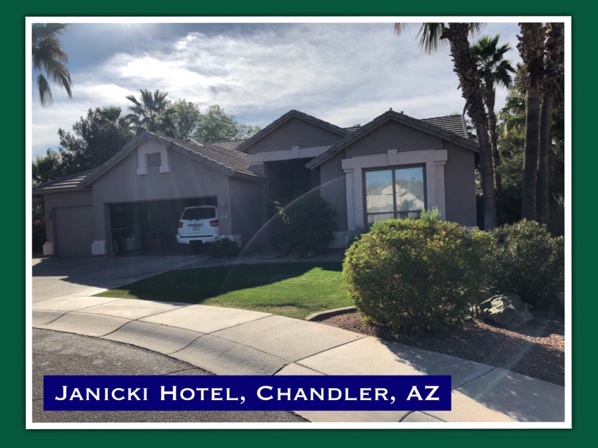 This morning, we packed up and said goodbye to Pete and his two dogs. Last night we hope we adequately thanked his wife Jen, and his two boys, Matt and Luke, just before they all headed off to bed. Holly was off to the airport and then Seattle before she to was off to bed! We have now checked out of the Janicki Hotel yet again. This time, we depart from the Chandler division.
Our stay with Pete and his family far exceeded my grandest expectations. The entire family went out of their way to make us feel at home. How cool is that? I have always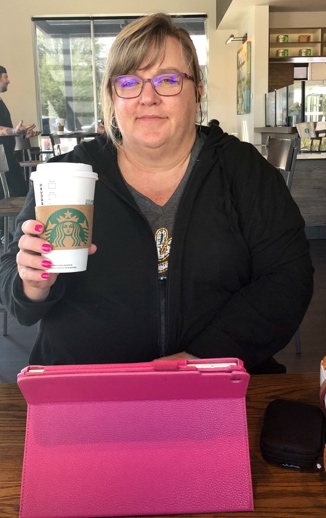 enjoyed hanging out with Pete, this time it wasn't just me. He got to spend quality time with me AND my wife, Lynette. The two of them could talk the detailed ins and outs of the sporting world all night long if we gave them the chance. Sound familiar Jeryn? We extended yet one more invitation to all of them to come visit the Bay Area some time and we will gladly reciprocate with the same warm hospitality!
Breakfast today was at Crackers and Company Cafe in Mesa. Nothing spectacular to add here, just a good old fashioned breakfast. In past years, we have joined Lynette's Mother, Linda, as well as her Aunt and Uncle, Ron and Elaine for brunch here. Another eggselent breakfast!
It was only 11am with the game starting at 1pm in Hohokam about ten minutes to the north. That left us with about an hour to spare. This may come as a shock to some of you, but we found a local Starbucks, ordered up some beverages and played with our electronic gizmos as the hour slowly ticked away! After the wasted hour, we headed north to Hohokam Stadium, the spring home of the Oakland A's. It is located just a few long blocks away.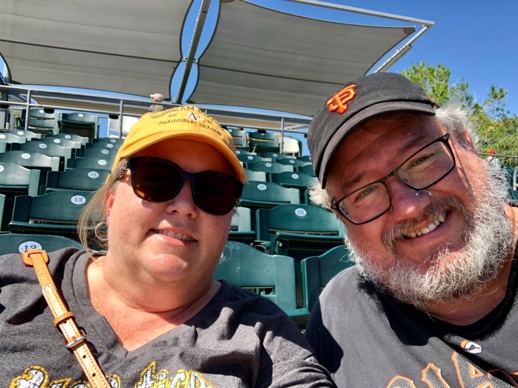 Now today's game is the renewal of our family's baseball Civil War. The A's and the Giants are the forces that divide many a household on either side of the Great San Francisco Bay. Very few that I know are actually sincere fans of BOTH teams. The camps clearly split along the Green and Gold and the Black and Orange colors of each team. Although, I did see one of the more humorous shirts at today's game. An enthusiastic female baseball fan, obviously from The Bay Area, displayed it. It was similar to a giveaway last season I believe from the Sacramento Rivercats with his number 34 jersey.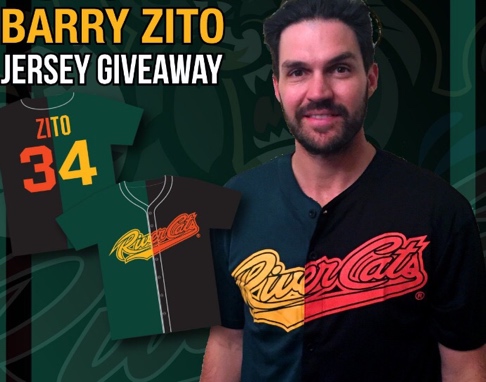 Barry Zito had success with both teams at different times in his lengthy career winning a Cy Young award with the A's and a Word Series Championship with the Giants. To honor the crossover appeal of Zito, The left side of her shirt was done in Black and Orange including the 7, his Jersey Number on the back. The right side of course was done in Green and Gold, including the 5 on the back of the Jersey. 75 never looked so nice and neutral!
In these Civil War type games, it is much more fun when your team plays well and wins. It establishes some cred around the house that you can use. Even if it only lasts a day. This being Spring Training, it just doesn't have the same impact as it will during the regular season!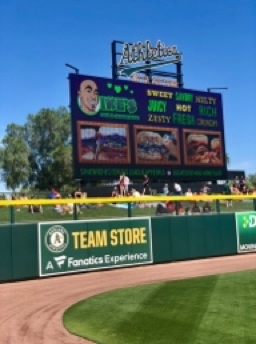 Thus far, this spring, the Giants look pretty good. They brought in Longoria, McCutchen, and Austin Davis among other key role players. Last year's atrocious season should be in our rear view mirror as we head out the gates on an upward trajectory once again. Hope Springs Eternal!
As for the A's, I have realized that they have yet again assembled a new roster with many new, young, enthusiastic ballplayers. The problem for me is that I am simply not familiar with many names on their roster, let alone their starting lineup. Now, this does not in anyway define what type of success they might have this year. It simply means that I have to do much research between now and the A's home opener.
Lynette has been to every A's home opener for something like 30 years. I have had the pleasure to join her for the past ten years. Although, I have sometimes referred to it as the opponents game. For instance, if the contest pits the A's against the Mariners. She would go to the A's game that night. I would attend the Mariner's game! I am coming around to supporting her team more over time. It is just so difficult as I was raised an Angels fan in sunny Orange County. Crazier things have happened!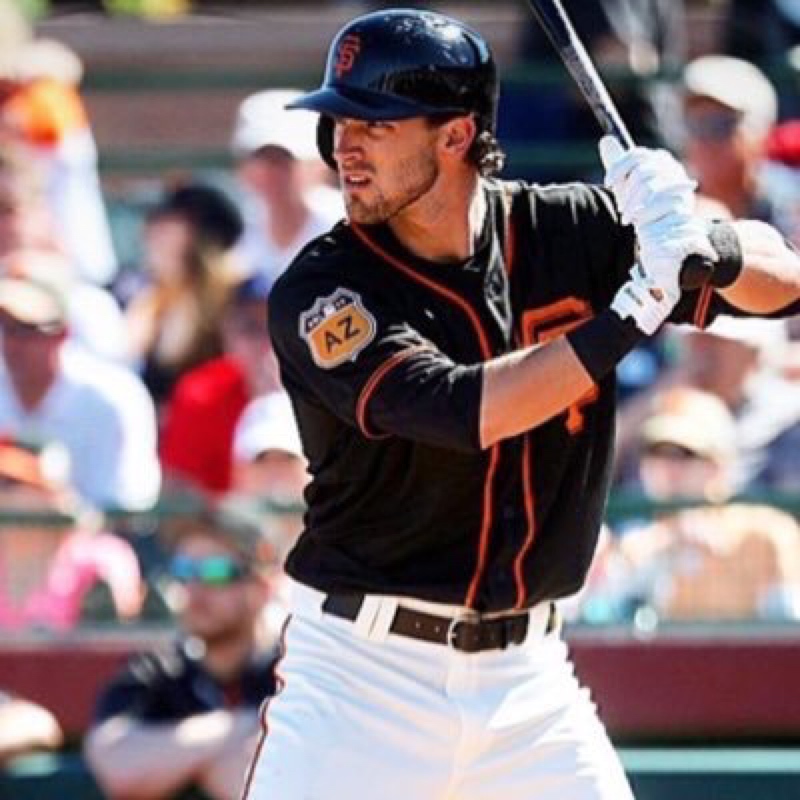 I did have one really cool Babe Ruthian moment when the Giants rookie phenom Steven Duggar came to the plate in the middle innings. I turned to Lynette and those around us and simply said, "Duggar is going to hit this one out!" I stopped short of pointing and more formally calling his shot. On the next pitch, he followed my suggestion with a long home run to right center field. I'm the man, yep, I've got the touch, Karma follows me……..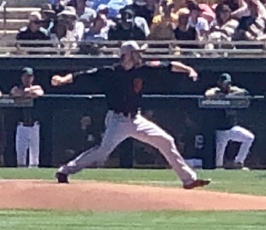 Stratton pitched 4 strong innings making it even more difficult to not land in the Giants starting rotation on opening day. Cotton for the A's pitched 4 strong innings as well. Good news for the A's, no? Unfortunately, the news today as I write this is not as good for Cotton. He will have season ending Tommy John surgery soon enough. Baseball can be a cruel mistress.
I believe I may have mentioned several times that the score just doesn't matter in these games. However, the previous games this week did not have the importance of Kruger on Kruger with plenty at stake. Thus, I can gleefully report that the Giants beat the A's 6-5 this fine day! Let's go Giants!
After the game, we headed over to the home of George and Becky Downing. Becky was my babysitter when I was a wee small child in Broomfield, CO. She lived next door to our family, we were at 190 Kohl Street. That was a very long time ago! Our families have remained great friends over all these years. At times, it feels like one great big extended family for sure!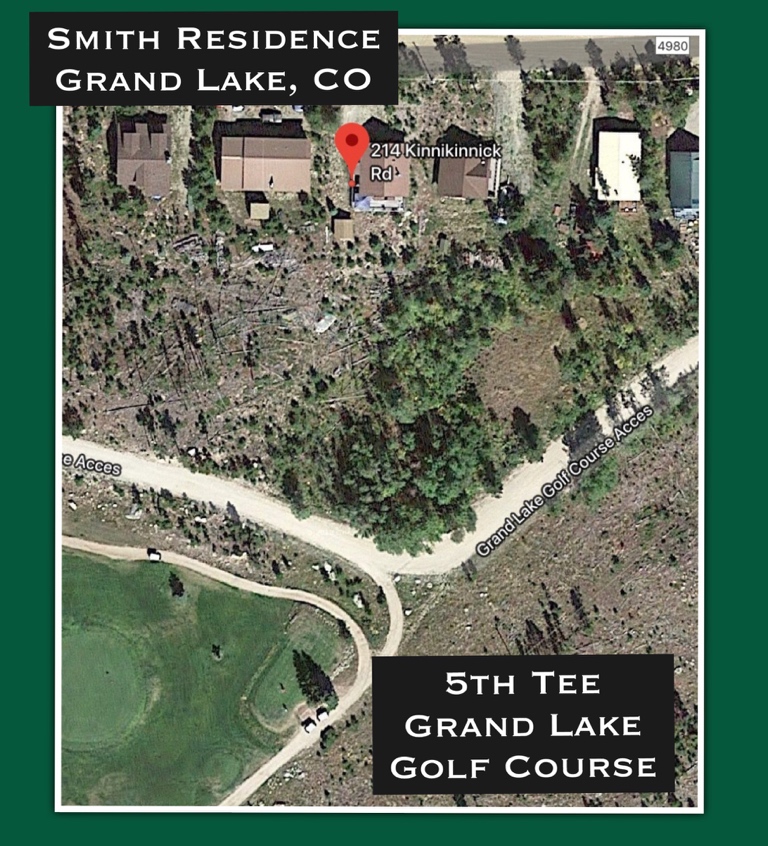 Her parents, Walt and Dorothy Smith had a cabin in Grand Lake in the Colorado Rockies. I remember it being just outside of Rocky Mountain National Park. Some of the prettiest mountains you will ever see, teetering on the great Continental Divide. Their backyard was basically the 5th Tee on Grand Lake Golf Course. I believe one of the old Tee Markers hung at the entrance in front of their cabin. I remember the one time I played the course with Walt. We snuck out to "take the trash out." We were busted by my girlfriend and Dorothy when we came around to the 5th Tee. I remember Dorothy greeting us with a cool glass of lemonade. They also lived in Broomfield, CO where I was born and in the Phoenix area during the winter months.
For the past 20 years, we have made it a priority to get together with the Smiths and the Downings during our trip to the Cactus League. There have been times where all three boys were home from college at the Downings. By design, Walt, Dorothy and their son Mike and his family plus our large traveling contingent would descend upon the Downing house in Tempe. They would BBQ something and provide all the fix-in's. It was usually during the evening broadcast of March Madness which was proudly shown on the on the TV. Plus you could always count on more than one kid running around the house chasing the dog. My kind of happy, joyful circus. Without a doubt, it made me smile from ear to ear! The epitome of what MidWest families are made of. There was always enough food, no one was ever turned away! There were stories to be told, and somehow a creative, new, card game that would consume most of us before the night was over.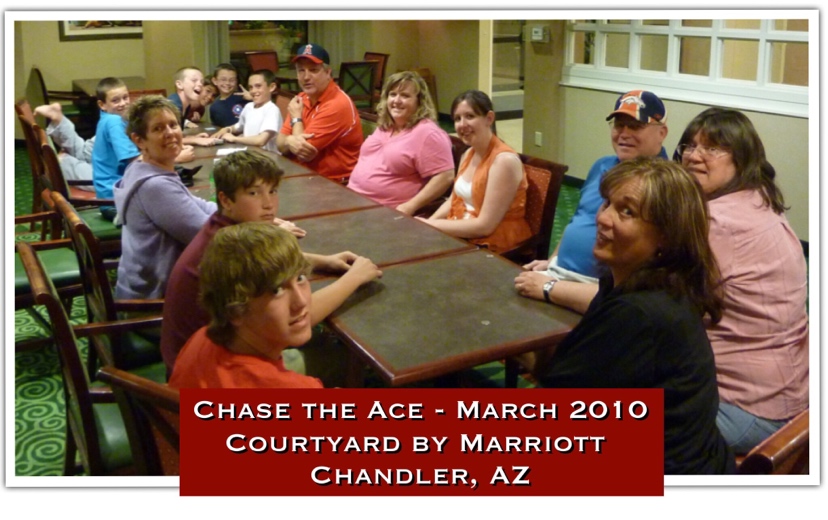 The best way to describe how similar our families are is to take stock of many of the card games that we have played as a family over the years. It's fair to say they were passed to us from the Smith or Downing families! Thirty One and Chase the Ace are just a few over the years. I can still see and hear my Mom playing Spite and Malice with Dorothy and any other takers. I vividly remember one of the greatest game nights Back in 2010 when Becky and George joined us at our Hotel in Chandler.
My brother booked the Hotel because many other families from the same Little League in Mission Viejo were staying there as well. I remember an awful lot of kids running around for most of the trip! As I said, George and Becky joined us for dinner I believe. Then we invaded the closed restaurant at the Hotel that was only open for Breakfast and possibly Lunch. Fourteen Adults and kids playing Chase the Ace. Simply put, that is just what it means to be a Kruger, Downing or a Smith!
Back to the current day, we arrived at their house shortly after the game. Three dogs, 3 grandchildren and the two of them. Randy and his wife were off to Hawaii I believe for a wedding or some such. Thus, their 3 kids Marcus, Kalli and Charli were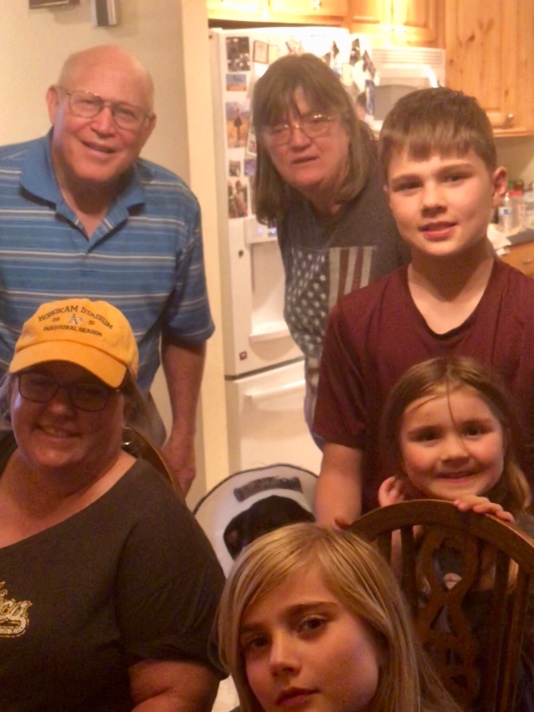 staying at Bumpa's and Grammy's house for the weekend. It could have been my siblings and I, Becky and her two brothers, or any other mid-western family of kids. These particular kids ranged in age from 12 to 5 and seemed pleasant enough!
Becky cooked up some Hot Dogs for the kids while George cooked up some Cheese Burgers on the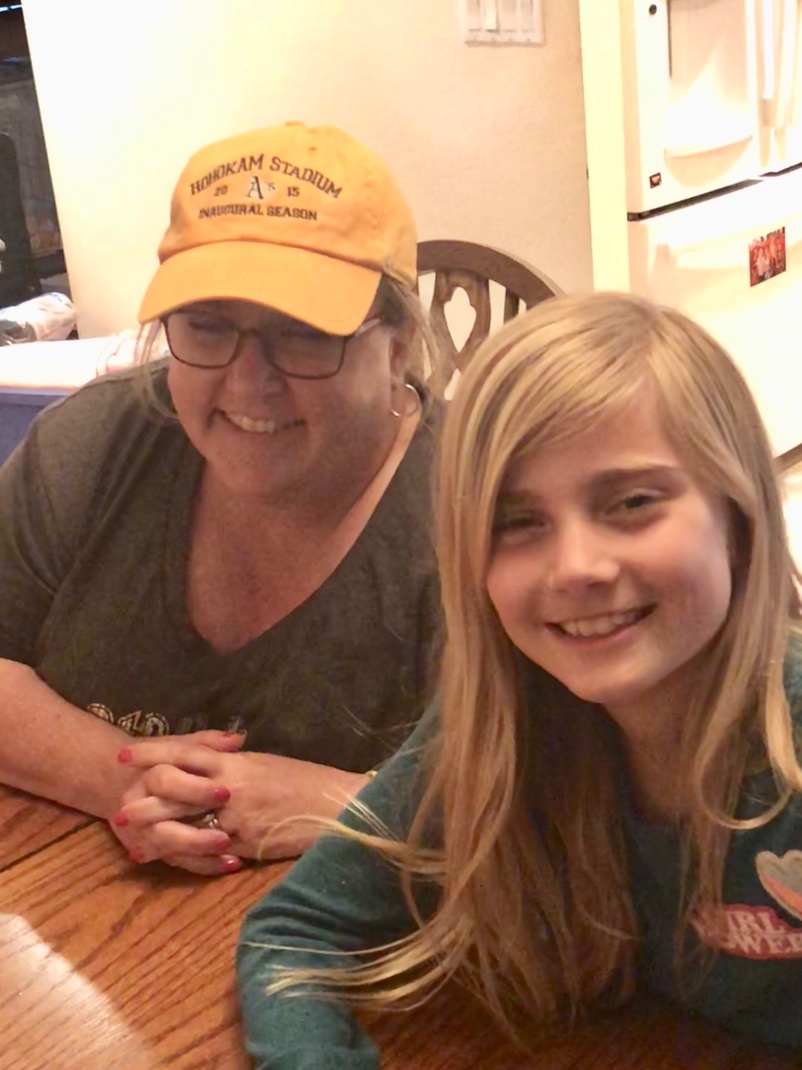 BBQ for the adults. Add some chips, beans, and potato salad and we all ate until we were stuffed to the gills! Then just to make sure, out came the brownies with ice cream!
Our time was running short as we had to get on to the airport to journey home. However, in our families, you always have time to play cards! The kids had been looking forward to it from what I thought I heard Becky say. You can't disappoint three smiling kids can you? We sat around the dining table. George (Bumpa) was at one end followed clockwise by Marcus, the 12 year old, myself, Charli the 5 year old, Becky (Grammy), Lynette and finally Kalli the 10 year old. The most entertaining one turned out to be Charli next to me! With some coaxing, we were able to get Kalli to tell us all about school and the other important things in her life during the game. No one fell for the 'ol "cut the cards" trick, not even Charli! I tried several times!
Normally, one plays for three quarters or some such. Becky, the wise, had set aside Jelly Beans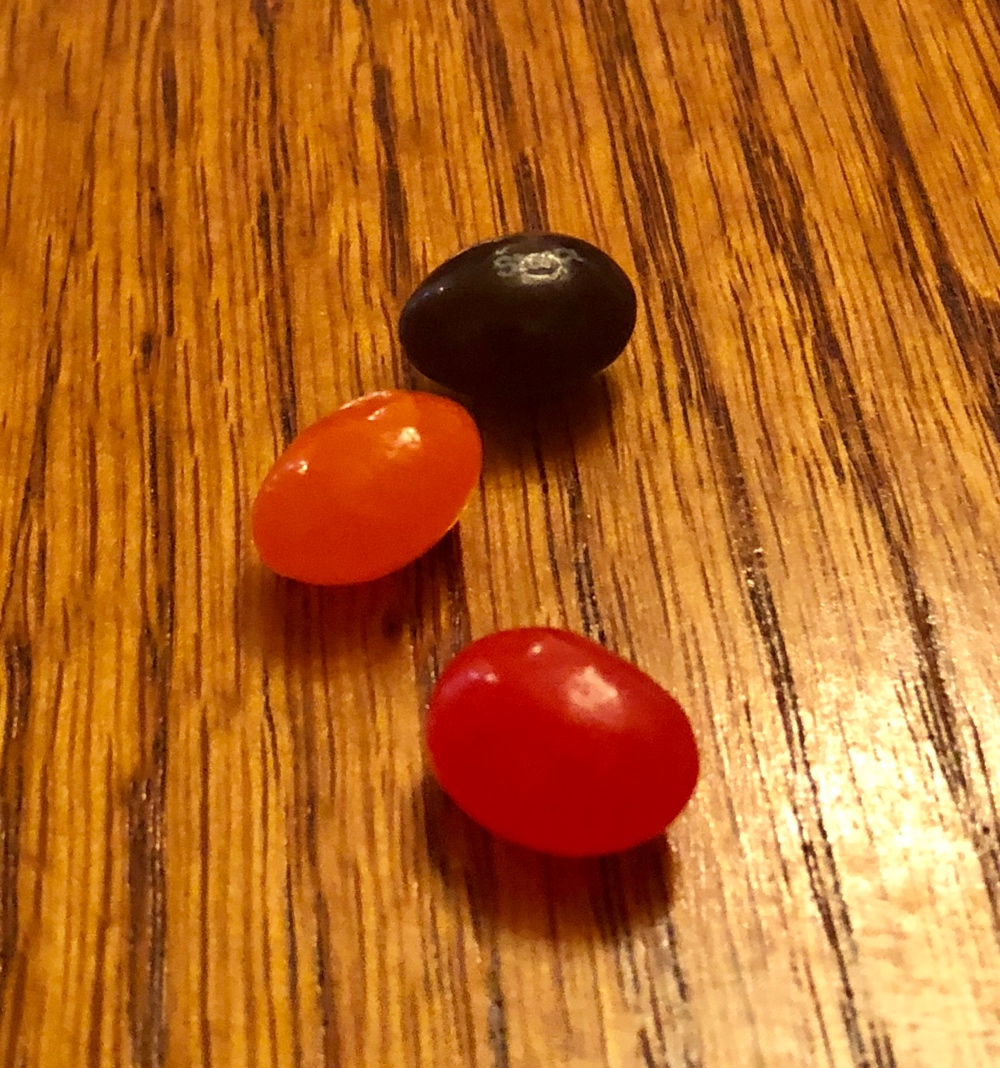 for us to play for/with. Thus if you lose, it isn't all that bad as you get to eat your Jelly Beans! After you have lost all three, you get one additional turn on your "honor." Unfortunately, while Marcus was the first to bow out, Lynette and I were the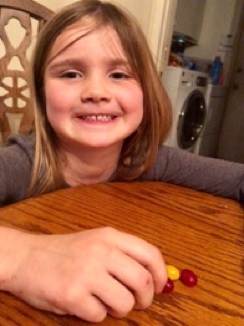 next two. At the same time, as we were out of time, it provided us with a proper segway to hit the road. It was fun to see that the next generations will carry on the traditions of these families and the games they all play! Thanks for the game Downings!
The rest is not newsworthy. Your basic Rental Car return, shuttle to the airport, and our SWA 737 waiting for us at the gate. Your basic two hour flight to San Jose, the drive home and this 20th pilgrimage was formally filed under "One of the best ever!"
We will be back. Next year, somehow, we all will find a way to take a break in the middle of March to flock to Arizona to reacquaint ourselves with the amazing game of Baseball! I look forward to yet more stories to tell next year!
Edited with BlogPad Pro